War Relief in Eastern Europe
If you would like to partner with us in our relief efforts, you can support this cause by giving online.
Help those affected by war
Together, BRINGING HOPE TO THOSE AFFECTED BY DISASTERS
The world has been shocked and horrified by the images of death and destruction coming out of Ukraine, in what has become the fastest growing humanitarian crisis in Europe since World War II. More than two million refugees, primarily women and children, have already fled Ukraine in less than two weeks and many within Ukraine are also displaced.
We've partnered with Samaritan's Purse to meet critical needs on the frontlines of one of Europe's largest humanitarian crisis.
Thank you for considering a partnership with Creflo Dollar Global Missions and Samaritan's Purse, as we respond to the growing catastrophe in Ukraine. Your prayers and support will enable us to meet critical needs on the frontlines of Europe's largest humanitarian crisis in recent history.
The United Nations estimates that this conflict will force four million people to flee Ukraine, and that 12 million will require humanitarian relief inside the country. To complicate matters, Ukraine is rapidly running out of fuel during this cold weather, hospitals and clinics are being destroyed or have little to no supplies, and food insecurity is projected to exponentially rise nationwide.
Here's how we are supporting those on the frontlines
Samaritan's Purse deployed disaster response specialists to Poland, Romania and Moldova in the wake of the conflict in Ukraine. We are financially supporting teams providing food, water, hygiene kits, clothing, and other aid to refugees.
Emergency Field Hospital:
We are partnering with Samaritan's Purse who has deployed an Emergency Field Hospital to Ukraine at the request of Ukrainian authorities. The hospital has operating rooms, an ICU and can handle up to 100 patients per day.
Medical Stabilization Point:
Samaritan's medical personnel will provide primary healthcare services for internally displaced people as they transit through areas of Europe in search of safety
Pray that God will protect and provide for families that are suffering amidst conflict in Ukraine.
Pray for churches within Ukraine that are serving their communities in the midst of war.
Pray that God will provide for the needs of the refugees pouring into neighboring countries.
Pray that our teams on the ground will be safe while helping relieve suffering in Jesus' Name.
HOW YOUR PARTNERSHIP HAS IMPACTED FAMILIES IN PREVIOUS OUTREACHES
Hurricane Dorian Relief mission
Your support has helped us rebuild the beautiful Grand Bahamas and help those affected by this catastrophic disaster.
Australian Wildfires Rescue & Support
By partnering with us, you assisted us in aiding friends, families, children and elderly affected by this disaster.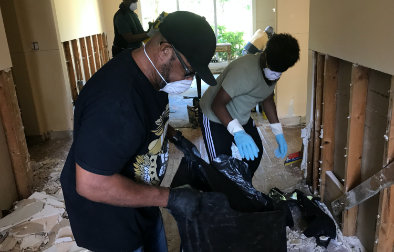 Hurricane Harvey Disaster Rescue
Our volunteers on the ground was able to assist victims of Hurricane Harvey in multiple ways because of your donations.